Available kittens
Deposit wait list for this litter.
A Beautiful example of Our cats
See below for Deposit and purchase information.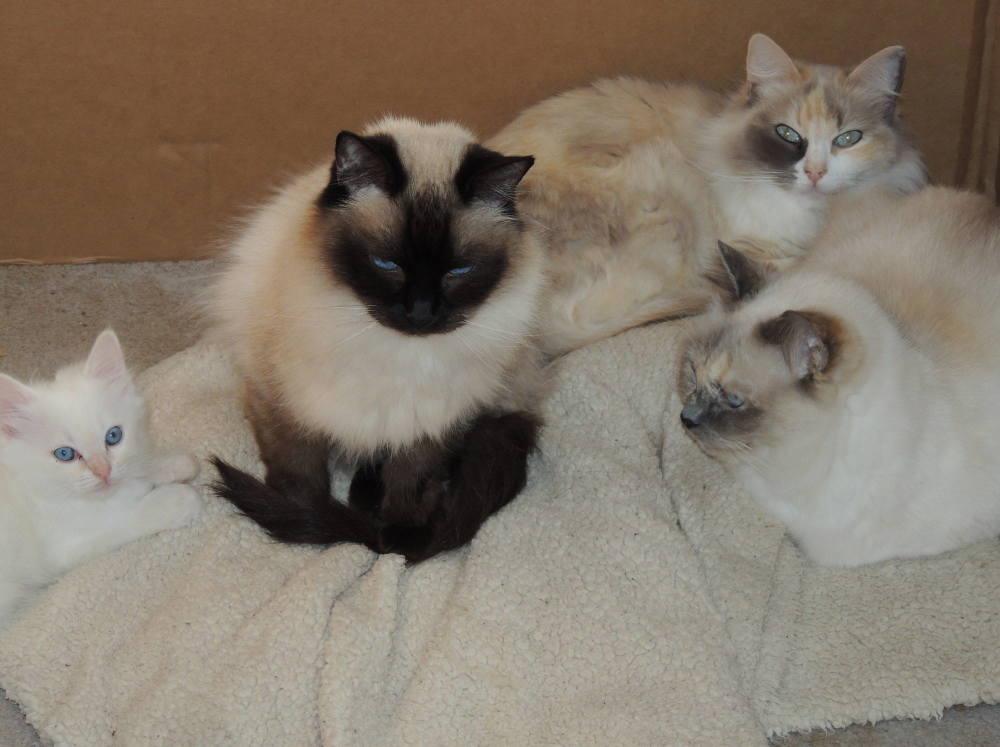 Please contact us for pricing !
We sometimes offer retired breeding cats as pets to good homes, these are priced at 200-300.00 depending on age and needs.
We only offer breeder cats to regsitered catteries and even then very few, if you want to be a registered breeder ask us what is needed.
Email us castletopdolls@aol.com
More on how to get a kitten from us
We maintain a wait list and have a first come first serve basis, you may request a certain color/gender. Please email or call us for info on how to get a kitten. we only take a few deposits until kittens are born, then we except more at that time.
I require a deposit down before any doors will be open to see our cats and kittens, it is for safty reasons in today's day and age.
Deposits are

non refundable

for any reason, this is an adoption process, most people who send a deposit will have a kitten between a few weeks to a few months, this is depending on if you put cost down on a pregnant mom or a live kitten, it takes me 21 days to confirm a pregnancy, a mom is due 60 to 68 days and then gives birth, live kittens go home at 11 -12 weeks old from the day they are born or if you decide to wait for another litter the longer the wait, the reason for no refunds is once I except a certain number of deposits I turn down all other people and if someone changes there mind for any reason at all the kitten would miss out on all other enquiries and new ones would have to be found, all cost goes to our preg moms, kittens for basic care, vet cost, food and so on, we are not a money making business but a hobby cattery.
All people who send a deposit will be guaranteed a kitten, if you are offered a kitten and you find you want to pass up on him or her, your deposit will be transferred on to a next litter or you will be offered another kitten if its available, In some cases I may decide to refund if I feel you will not be a good home or for any reason.
All sales are final, once a kitten goes home I do not take them back unless I offer to and for the following reasons.
If a kitten is found to have a life threatening problem with in 3 days of sale, I offer a full refund including deposit or if I cannot take the kitten back you can keep the kitten and be offered a cost back to help get it well.
If I offer to bring back a healthy kitten I do not offer a refund in any case if you decide you just cannot keep it but will offer another kitten, you must bring the kitten back within 7 days of sale, if I have no other kitten to trade I may not take the current one back. I will not take a kitten back after 7 days and you must wait for the next available one. I do not refund for extra playful kittens or very active kittens or kittens who act shy or hide, all kittens need at least 2 weeks to settle in to a new home, its an adoption, once you pick a kitten out he or she is yours for a life time just like that of a child.
We offer a 3 year contract for your kitten against the heart defect called HCM and on the kidney problem called PKD. Also we offer a full money back guarantee if your kitten is found to have a life threatening sickness with in 3 days of sale. If a kitten is found to have one of the defects listed above I offer a kitten free of charge as long as you have a vet statement diagnosing the defect is certain.
We allow kittens to go home between 11 and 12 weeks old but no earlier and if a kitten that I feel is very small for the ages and or still nursing alot I allow to go slightly older, 13-14 weeks.




We only have time for serious and real inquiries, our doors will not be opened for exhibiting our cats unless you already have a deposit down, this is for our privacy.
We also do not alow young kittens under 7 weeks to be seen for there safety and health, they must have their first vaccine, if you must visit before sending a deposit we charge 20.00 just to come and see the parents, some parets cannot always be dispayed due to heat cycles and our strict separation from male and females, this is due to stress on the males and possible spraying, some of our cats can be seen however.




We email everyone on the wait list the day kittens are born with the number and gender. Pictures will be sent for the picking out and then you may come to visit your kitten when it is 8 weeks to confirm you are happy with your choice or recomended make one trip at 11 weeks to come pick up .
I offer my kittens with a no declaw contract.
Please lsee the early spay and neuter page for De claw links. If you declaw your kitten from us the health contract will be void even if a genetic defect is found. You will notice that 90% of all ragdoll breeders do the same contract on this, it is strict due to the gentle nature of the breed.
Our kittens are not raised around any human furniture and are trained to scratch a post, we hope that everyone who gets a kitten from us will realize that its not likely that they will dig up furniture as long as they have one or two cratching post and see the effort we put into it to avoid unnecessary surgery.
Most Ragdolls however do not Scratch much and will only defend themselves when necessary and due to the gentle nature should not be decalwed.
All kittens come with first vaccines and one worming.
All of are cats are fed a high quality diet and are well socialized. All kittens may have different personalities but all of our kittens have ragdoll traits and are loving once settled into new homes.
We are not a business we are a hobby breeder who loves to produce beautiful Ragdoll kittens .
We are currently feeding Premium edge dry kitten food and chicken soup to all our cats and sometimes natural life canned, they contain all real chicken and no fillers and the price is very reasonable.
Emails are prefered since I am always
updating and checking
emails faster then phone messages, calls are however welcome.
We have the right to refuse someone from getting a kitten.